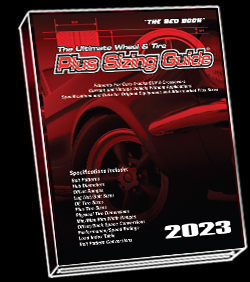 Order the 2019 "Printed Guide"

<<<- Click on the Cover
Contains Thousand of Fitment Combinations For Cars-Trucks-SUV'S-Crossovers
Current and Vintage Vehicle Fitment Applications
Specifications and Data for Original Equipment and Aftermarket Plus Sizes
The "Red Book" Pays For Itself With Just One Sale
Click on the Cover to Order The 2019 Edition. Sell More Tires. Sell more Wheels. Get The Guide That Pays for Itself!
Note:
The Ultimate Wheel & Tire Plus Sizing Guide is also available in a continually updated
online subscription
featuring multiple tools, calculators and reverse lookups by tire size and bolt pattern.
Order the "Online Digital Subscription"
Click on the screen--->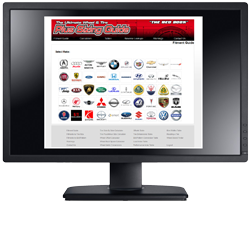 Subscribe to the Digital Ultimate Wheel & Tire Plus Sizing Guide and stay current and up to date all year. Continually Updated Tire & Wheel Fitments for OE & Plus Sizes for both Current & Vintage Vehicles.
Interactive Tools & Calculators Include:
Reverse Lookup by Tire Size
Reverse Lookup by Bolt Pattern/Offset
Reverse Lookup by Wheel Brand Name
Plus Size Tire Calculator
Minus Size Tire Calculator
Wheel Offset/Backspace Calculator
For subscription information Email us at: Sales@PlusSizingGuide.com or call: (310) 357-7293
New

Plus-Sizing Tire Pressure Software!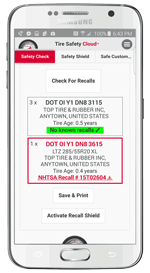 From Inflation Technology, LLC
Does your business involve selling and/or Servicing tires and wheels..? If so, how do YOU answer these questions…?
How do you know if and when a tire is recalled?
What pressure do I recommend for Plus Sized fitments?
What wheel widths can I use with Plus Sized fitments?
How large a speedometer change will there be?
How do I comply with the laws governing tire/wheel changes?
How do I make a record of my work for future references?
How to I document the ages of the tires on the vehicle?
How do I limit my company's liability for:
Not warning the customer about old tires?
Not being aware of recalled tires?
Not labeling the vehicle when I do Plus Sized fitments?
Better yet, how do you tell your customer the answers in a professional way that also protects your business? The answer is the Tire Safety Cloud TM a unique internet application that includes: Safety Check TM - Determines the age and recall status of a tire by its DOT code Safety Shield TM - Electronically notifies the customer of a recall for six years. Custom Fitment Pro TM - Provides tire pressure and labeling for custom Plus Size fitments