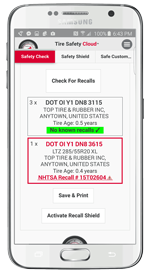 New

Plus-Sizing Tire Pressure Software!

From Inflation Technology, LLC

Does your business involve selling and/or Servicing tires and wheels..? If so, how do YOU answer these questions…?
How do you know if and when a tire is recalled?
What pressure do I recommend for Plus Sized fitments?
What wheel widths can I use with Plus Sized fitments?
How large a speedometer change will there be?
How do I comply with the laws governing tire/wheel changes?
How do I make a record of my work for future references?
How to I document the ages of the tires on the vehicle?
How do I limit my company's liability for:
Not warning the customer about old tires?
Not being aware of recalled tires?
Not labeling the vehicle when I do Plus Sized fitments?
Better yet, how do you tell your customer the answers in a professional way that also protects your business? The answer is the Tire Safety Cloud TM a unique internet application that includes: Safety Check TM - Determines the age and recall status of a tire by its DOT code Safety Shield TM - Electronically notifies the customer of a recall on for six years Custom Fitment Pro TM - Provides tire pressure and labeling for custom Plus Size fitments.